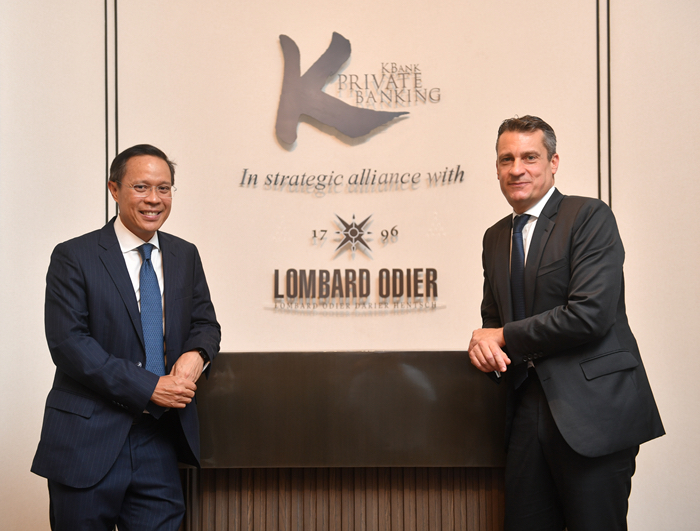 Lombard Odier, together with five key strategic alliances across Asia, including KBank Private Banking, has launched a comprehensive study 'Connection, transition, transformation: engaging Asia's UHNWI in the New Normal' with a core objective to understand the concerns of leading Ultra High Net Worth Individuals (UHNWI) families and entrepreneurs across Asia amid this challenging phase, while steering the industry as a whole to better address their needs.
With insightful feedback from 150 UHNWI participants domiciled in Thailand, Singapore, Indonesia, the Philippines, Hong Kong, Japan, and Taiwan, the report unveiled a wide range of findings that get to the heart of this, including Technology, Investment, Family, and Sustainability.
"The disruptions and impact of the pandemic are manifold, and have forced leading families and entrepreneurs in the region to rethink everything. One thing is clear - UHNWIs have reflected a strong desire for a trusted local adviser that helps them navigate and access markets they can no longer travel to easily, and for banking relationships with banks that are aligned with their principles and convictions. Banks that have values that they feel connected with. Our strategic alliance with KBank Private Banking encapsulates this - through KBank Private Banking, Thai UHNWIs are able to access opportunities via Lombard Odier's network of strategic alliances in the region," said Vincent Magnenat, Limited Partner and Chief Executive Officer, Asia, Lombard Odier.
Technology: Finding the right balance between Technology and Human
COVID-19 became the game-changer that put the whole world on the same unprecedented page. For UHNWIs, there presents a great shift towards digitalisation in their behaviors. As the report showed, 81% of Asian UHNWIs believe that "more digital, less physical" human interactions will become the new norm, with Thailand as the 3rd highest ranking country with this view among countries surveyed.
However, not everything can go digital, especially when it comes to private banking and building trust. Surprisingly, 59% of Asian UHNWIs and a majority of Thai UHNWIs prefer physical meetings at or outside the bank, as opposed to virtual methods including email, letter, video call, and telephone once the COVID-19 crisis ends. A number of Thai participants also highlighted that physical interactions mattered a lot when doing business and did not think it could completely be replaced by virtual communication.
Investment: In search of the extra factor
COVID-19 aftermath has led Asian UHNWIs to perceive markets as increasingly dynamic and segmented. However, the results show that investors who have lived through the financial crisis have been able to stay focused. 70% of Thai partcipants have not changed the time horizon characteristic of their portfolio. In terms of assets, some Asian UHNWIs have decided to adopt a rather conservative bias: turning to traditional safe havens such as gold, the Swiss Franc, the Japanese Yen, and sovereign bonds. Other Asian UHNWIs think it is a time of opportunity, placing more interest in private equity and private debt as low interest rate is expected to be part of the new norm.
With a potential reverse in globalisation, many participants expressed a strong desire for a trusted local adviser who will help them navigate, access local markets, and capitalize through the time of uncertainty. 87% of Thai UHNWIs also considered that the availability of extra financial services influence the choice of their bank, with treasury management capabilities, access to real asset opportunities, and ability to be connected with entrepreneurs as top three services being ranked as very important.
Family Services: Urgency for Family Governance
For many Asian UHNWI families, the pandemic has brought to the forefront some key longer-term questions for family businesses, family values, and family wealth governance. As a result, they are cautiously exploring and putting governance structures in place. As shown in the report, currently 35% of Thai UHNWI families have already structured their family governance, and the crisis have prompted 45% without a structure in place to start thinking of adopting one.
Real estate advisory service has also become one of the fastest-growing family wealth planning service offerings among Thai UHNWI families. In 2020, KBank Private Banking has studied the real estate portfolios of 121 clients, covering 940 plots of land.
Sustainability: Sustainable Investing is the Future
UHNWIs took a step back and reflect on their values post COVID-19, and sustainability appears to be highly valued. When it comes to choosing a private bank, 69% of Thais cite sustainability as one of the top three factors, the second highest among the countries surveyed after Japan.
Interestingly, while 89% of Asian UHNWIs said that the sustainability trend is here to stay, only 61% choose to take ESG and sustainability into account when making investment decisions, while others still convey a desire to better understand the sustainable investing options available to them. This highlights the needs for private bank's guidance to increase the visibility of potential areas of investment around sustainability.
What it means for the priorities of Thai private banks
According to Jirawat Supornpaibul, Private Banking Group Head, Kasikornbank, "The results emphasise the increasing sophistication of the demand and needs of UHNWIs amid the COVID-19 crisis. As we reconsider our approaches for the post COVID-19 world, KBank Private Banking, in a strategic alliance with Lombard Odier, believes these are the four actions we must take to help our clients navigate the New Normal."
The four key priorities include:
Accelerating the digitalisation of communications, touchpoints, reporting, and making transactions along with leveraging technology to empower relationship managers to provide better services.
Continuously providing education around risk-based investment strategies and implement risk management instruments across all products.
Doubling down on strengthening service offerings outside the area of capital market, from investment in non-capital markets and business to real estate advisory services and wealth planning.
Demonstrate the medium-term to long-term tangible returns of sustainable investment and continue to introduce new products to encourage clients to increase investment proportion.
"As the pace of change will only accelerate, we must leverage the unique strategic alliance through international perspectives and local expertise that will build a more resilient economy and a more inclusive society," said Jirawat.