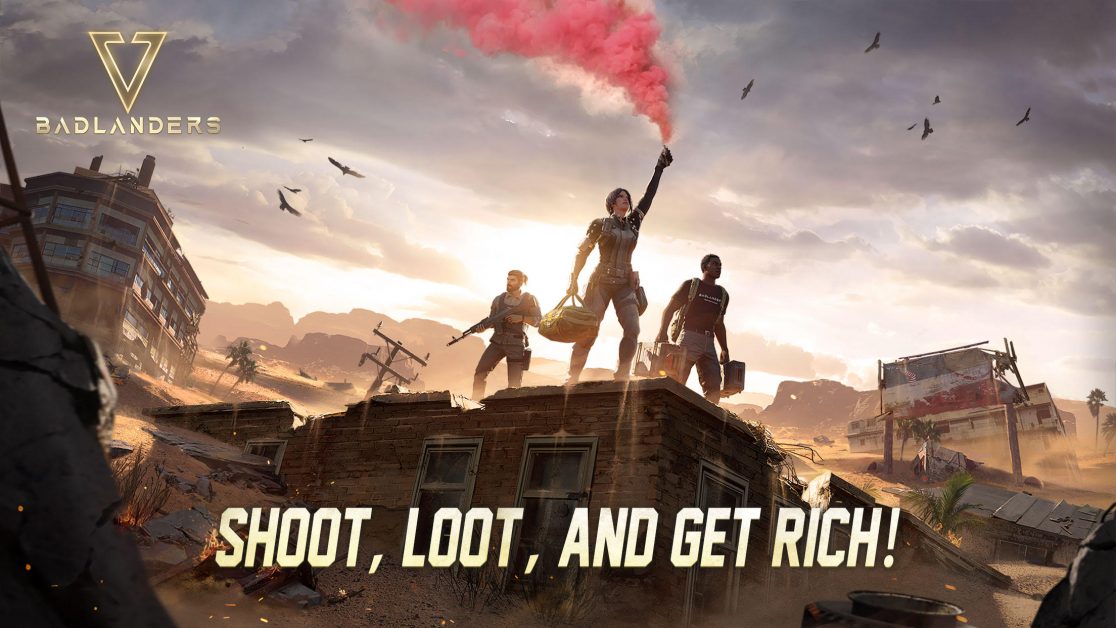 NetEase Games is going to launch its all-new mobile competitive survival looter-shooter, Badlanders, in Southeast Asia on January 14th. Since the start of beta testing, the game has attracted the attention of players with its fun shooter gameplay and unique looting mechanism. Badlander is available now on Android and iOS devices. Players can download for a brand-new shooter experience via early access.
(Video link: https://youtu.be/osdfIJ8KP3Q)
Survive & Loot, a Next-level Shooter Experience
Badlanders introduces the latest improvements in survival looter-shooter gameplay. The player must reach a designated evacuation point on the map while competing with dozens of other players. Not only must the player evacuate, but also fight over abundant items and equipment. Survive, and loot as much as possible, to amass wealth.
A Tournament of Wealth, Experience the Thrill of Risking It All
Players have several strategy options when it comes to extracting loot and converting it into wealth. They could enter the battlefield without equipment and scour the map for loot to start from scratch. They could also use the in-game modification system to create and equip stronger weapons to defeat opponents. No matter how players proceed, they must bear in mind that if they are defeated, their enemies will get all their resources. Evacuation is the key, with the battlefield full of risk and opportunities alike. It's a gamble of life and death. Whether players get rich or lose it all depends on their skills and strategy.
At the same time, rich gameplay modes provide several options for players to accumulate wealth. There is a variety of in-game maps. Players can slowly build up wealth in the vast desert, or battle with enemies indoors. Travel to and from the large Red Beach building to seek the best equipment hidden in the mysterious code room. The innovative stats system can add hundreds of special attributes to your combat equipment based on players' strategy. Players can explore various possibilities on the battlefield and gameplay.
Free Trade, the Joy of Accumulating Wealth
In addition to the survival looter-shooter gameplay, the possibilities for free trade and cultivating items was very satisfying for most beta testers. Through the free in-game trading system, players can set prices and sell their loot to other players, earn in-game tokens, and buy more powerful equipment. Players can also purchase discounted materials to modify and build rarer equipment in the system. In this way, they can experience the joy of building up their collections through trade.
Download It Today to Claim Your Fortune
Try Badlanders now via early access on Google Play and the App Store! Or, head to the Huawei and Oppo app stores to pre-register and receive valuable rewards like rifle sets, sight sets, and limited-edition avatars and skins to stake your claim when the game officially launches on January 14.
Up-to-date information about the game can be gained from its official Facebook and Discord channel. Players, get ready to fight for survival and wealth!
Download now: https://shelter.onelink.me/p5Qc/dfce07a5
Official Website: https://www.badlanders.game/
Facebook: https://www.facebook.com/BadlandersEN
Discord: https://discord.gg/badlanders
About NetEase Games
NetEase Games is the online games division of NetEase, Inc. (NASDAQ: NTES and HKEX: 9999), developing and operating some of the most popular mobile and PC games in markets including China and Japan. As one of the world's largest incubators of quality online game content, NetEase Games is dedicated to supporting the growth of innovative studios around the globe and growing an international presence along the way. To complement its self-developed games and world-class R&D capabilities, NetEase Games also partners with other industry leaders including Blizzard Entertainment, Mojang AB (a Microsoft subsidiary) and other global game developers to operate some of the most popular international online games in China. For more information, please visit neteasegames.com.