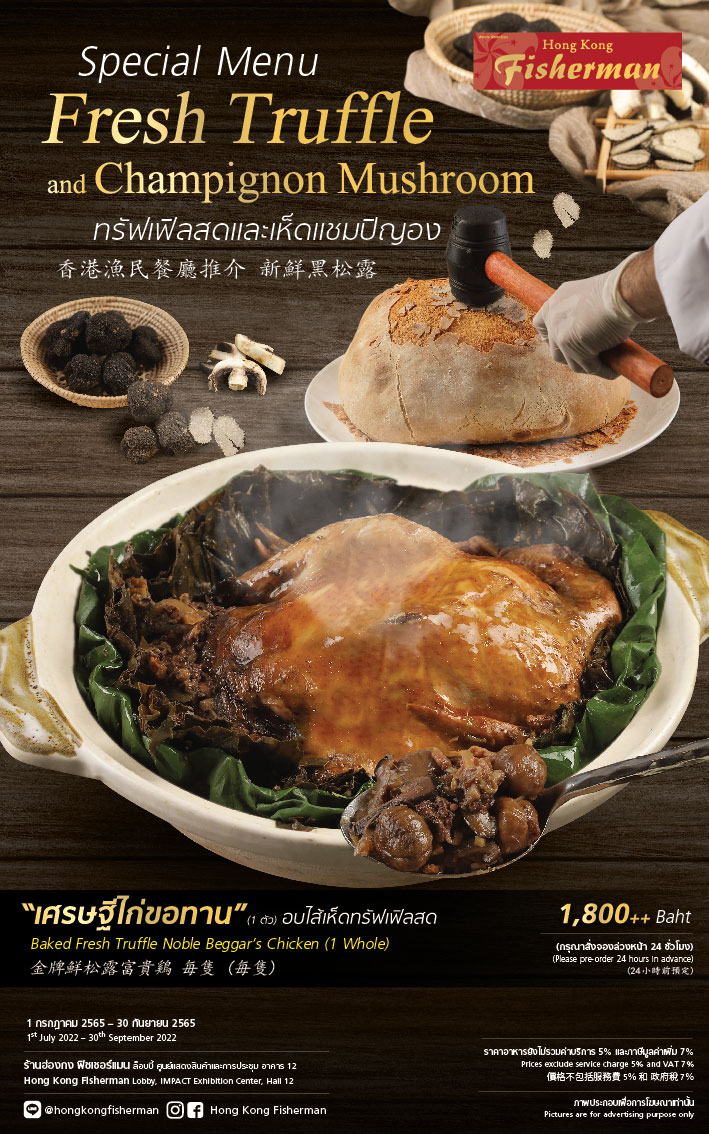 "Hong Kong Fisherman", a Hong Kong style restaurant serving authentic Hong Kong food prepared by Hong Kong native chefs using fine quality ingredients, launches a lineup of new recipes with "fresh truffles" which offer various health benefits. Truffles are a great source of antioxidants and help prevent cancer, heart disease and diabetes. Chefs have meticulously selected fresh truffles from Italy and champignon mushrooms from Thailand to create eight Hong Kong style dishes, with prices ranging from 390 - 1,800 baht (for 1 - 4 people). The truffle menu will be available from 1 July - 30 September 2022.
Discover Hong Kong style delicacies made from one of the world's finest ingredients like fresh truffles. The first dish is "Fresh Truffles and Shrimps Wonton Lobster Soup" (390 baht), a thick, rich soup made from lobster head and shrimp wonton stuffed with fresh truffles. The next menu item is "Baked Fresh Truffle Noble Beggar's Chicken" (please pre-order 24 hours in advance), a well-marinated Betong chicken stuffed with stir-fried minced pork with truffles, ginger and spices. The whole chicken is wrapped in lotus leaf and covered with flour that has been kneaded until it has a clay-like texture before being roasted until the meat is tender and served with chicken sauce. This legendary dish is only 1,800 baht. Another must-try dish is "Sauteed Fresh Truffles, Champignon Mushrooms and Wagyu Beef with Black Pepper Sauce" (1,250 baht), stir-fried wagyu beef with truffles and champignon mushrooms. Other recommended dishes are "Sauteed Fresh Truffles, Champignon Mushrooms and Sliced Conch with Broccoli" (950 baht), "Sauteed Fresh Truffles, Champignon Mushrooms and Grouper Fillet with Celery" (950 baht), "Pan-fried Champignon Mushrooms stuffed with Minced Shrimps and Fresh Truffles with Abalone Sauce" (750 baht), "Sauteed Fresh Truffles, Champignon Mushrooms and Kurobuta Pork with Sugar Snap Peas (780 baht), and "Fried-rice with Seafood, Fresh Truffles and Champignon Mushrooms" (550 baht), wok tossed fried rice with champignon mushrooms, shrimps, US scallops, fish, and topped with sliced fresh truffles.
Don't miss out on trying Hong Kong style fresh truffle dishes at Hong Kong Fisherman, with professional service and strict COVID-19 measures in place. The restaurant is located at the lobby of Hall 12, IMPACT Muang Thong Thani and open daily from 11 a.m. to 10 p.m. To make a reservation, please call 02-833-5434-5. For more information and latest updates, please visit Facebook fan page: Hong Kong Fisherman and website www.hkfisherman.com or stay connected with the restaurant via LINE Official Account: @hongkongfisherman.