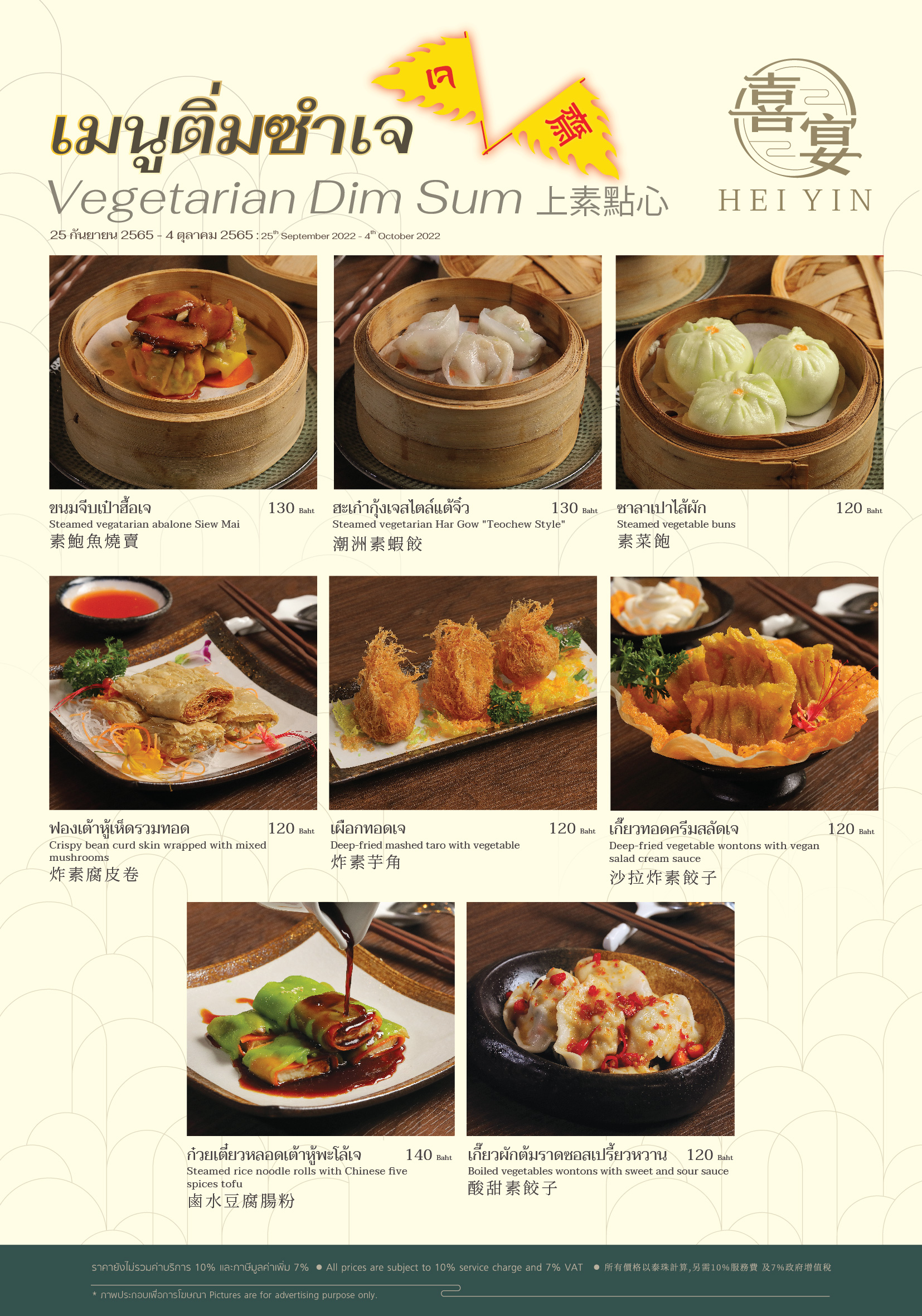 "HEI YIN", the authentic Cantonese restaurant, welcomes Vegetarian Food Festival 2022 and celebrates meat-free consumption during the period of 10 days with 17 vegetarian a la carte and dim sum dishes by Chef Jacky Chan, who has more than 40 years of professional culinary experience using Hong Kong imported ingredients and organic vegetable with prices ranging from 120 - 450 baht from 25 September - 4 October 2022.
Discover Hong Kong vegetarian delicacies at "HEI YIN" with 9 a la carte dishes including "Braised Assorted Mushrooms Soup" (280 baht), strong flavor soup using whit and black shimeji mushroom, straw mushroom, shiitake mushroom, and Morel mushroom, "Sauteed Chinese Yam, Cucumber, Black Fungus, Lotus Root, Water Chestnuts and Walnut in Deep-fried Mashed Taro" (450 baht), deep-fried a ring-shape mashed taro filled with saute ginkgo, walnut, water chestnut, shiitake mushroom, and pepper, "Vegetarian Peking Duck" (300 baht), using crispy bean curd skin and seaweed to create a texture similar to duck meat, "Crispy Morel Mushrooms with Chili and Salt" (450 baht), Hong Kong style stir fried Morel mushroom with chili and salt, "Sauteed Shitake Mushrooms with Black Pepper Sauce" (320 baht), strong flavor dish with black pepper aroma, "Fried Rice with Truffle Sauce" (350 baht), high-heat stir fried rice with aroma truffle sauce, "Sauteed Mixed Vegetables topped with Hair Algae" (320 baht), containing asparagus, bog choy, carrot, Chinese cabbage, Orinji mushroom, "Stewed Bean Curd Ma Po Tofu with Plant-based Minced Pork" (350 baht), and dessert, "Chilled Chinese Pear with Alovera in Osmanthus Syrup" (250 baht).
Next, eight must-try vegetarian dim sum menu items (only available at lunch from 11.am - 3 pm.) include "Crispy Bean Curd Skin Wrapped with Mixed Mushrooms","Deep-fried Mashed Taro with Vegetables", "Steamed Vegetarian Har Gow "Teochew Style", "Steamed Vegetarian Abalone Siew Mai", "Steamed Vegetable Buns","Deep-fried Vegetable Wontons with Vegan Salad Cream Sauce", "Steamed Rice Noodle Rolls with Chinese Five Spices Tofu" and "Deep-fried Vegetable Wontons with Sweet & Sour Sauce" with prices ranging from 120 - 140 baht.
Celebrate the Vegetarian Food Festival with Hong Kong healthy and tasty vegetarian delicacies at "HEI YIN". The restaurant is located on the 3rd floor of Gaysorn Village and open daily for lunch from 11 a.m. to 3 p.m. and dinner from 6 p.m. to 10 p.m. Four uniquely decorated private dining rooms are also available (The fee is 1,000 - 2,000 baht. No fee is required when the spending minimum is met.) For more information or to make a reservation, please call 080-964-5423 or contact the restaurant via LINE Official Account: @heiyinbangkok. To learn more about the restaurant and for latest updates, please visit www.heiyinbangkok.com, Facebook: https://www.facebook.com/heiyinbangkok and Instagram: https://www.instagram.com/heiyinbangkok/.