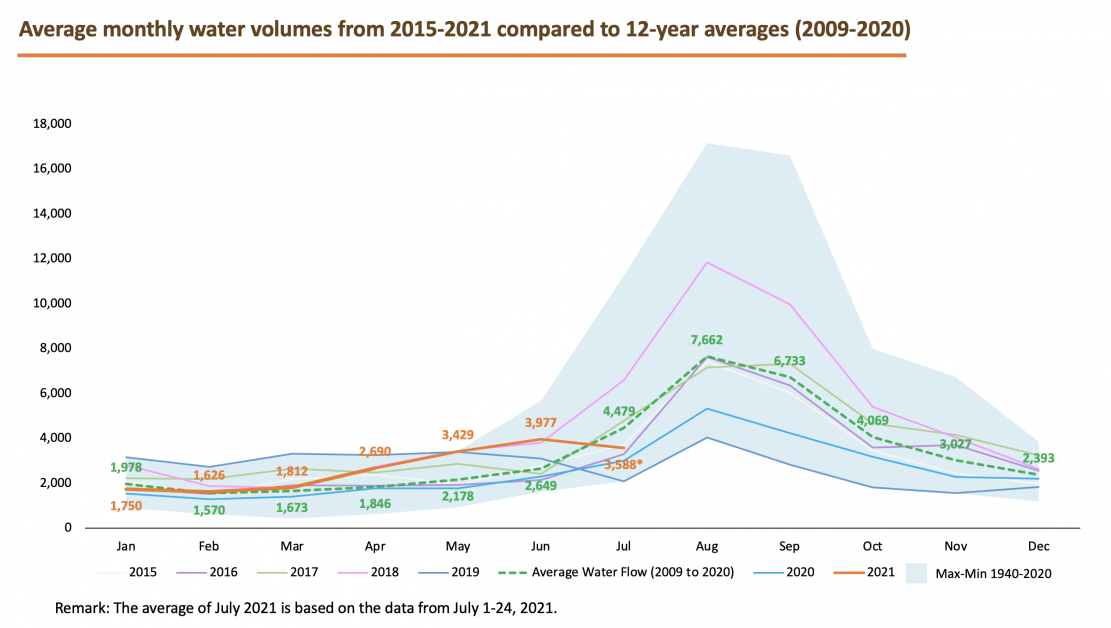 Mr. Thanawat Trivisvavet, Managing Director of CK Power Public Company Limited (CKPower), the company that manages the Xayaburi Hydroelectric Power Plant in the Lao PDR, stated that on July 25, 2021, the flow rate of the water that ran through the Xayaburi Hydroelectric Power Plant was 8,000 cubic meters per second, an increase from the average of 3,588 cubic meter per second during the period from July 1 to 24, 2021. The rise can be attributed to Tropical Storm Cempaka, which has now weakened into a tropical depression, bringing heavy rain to Northern Vietnam and the Gulf of Tonkin during the past few days, coupled with the scheduled release of water from the Nam Ou Hydropower Dam. It is expected that on July 27, the power plant will record 7,200 cubic meters per second in the volume of water passing through its system, which will then gradually drop to 6,400 and 5,600 cubic meters per second on July 28 and 29, respectively.
"The power plant is managed in such a way that it releases the same amount of water downstream as the natural flow that goes into the power plant. This is because the Xayaburi Hydroelectric Power Plant has no water storage capability nor reservoir; it is a run-of-river hydroelectric power plant. In other words, the amount of water that flows into the power plant is invariably equal to the amount released out of the power plant into the river, and the natural flow of the Mekong is not affected," said Mr.Thanawat.
A comparison of the average monthly volumes of water passing through the power plant against the highest and lowest flow rates over the past 80 years (1940-2020), dating back to the period prior to the establishment of the power plant, demonstrates that the current volumes are within the recorded range and that flow rates can vary, with higher volumes in wet years and lower in dry years. The average volume of 2021 is projected to be similar to that of 2018 which was recorded as a wet year.